7 Aspects That Enable a More Successful Electrified Future with Garrett's E-Turbo
The auto industry is rapidly adopting electrified hybridization, leveraging high voltage systems to improve fuel efficiency and performance. Indeed, analysts predict hybrid powertrains – boosted by technologies such as Garrett's E-Turbo – will command 25% of the global light-vehicle market in 2023 and more than 30% by 2030.
Garrett's E-Turbo is a passenger vehicle industry-first innovation. It obliterates turbo lag, thanks to a high-speed electric motor positioned directly on the turbo shaft between the compressor and the turbine. It also recovers energy, making it a net contributor to the vehicle energy management system. As a result, E-Turbo pushes the boundaries of engine down-sizing through class-leading efficiency and significant performance improvements.
This award-winning innovation, developed by engineers at Garrett's Electrification Center of Excellence, represents a significant technology milestone in hybrid powertrain electrification – providing a roadmap to compliance with stricter emissions and fuel economy or CO2 regulations with no performance compromise.
Here's 7 unique aspects about how Garrett's E-Turbo will help shape the future of electrification:
1. Award-Winning Innovation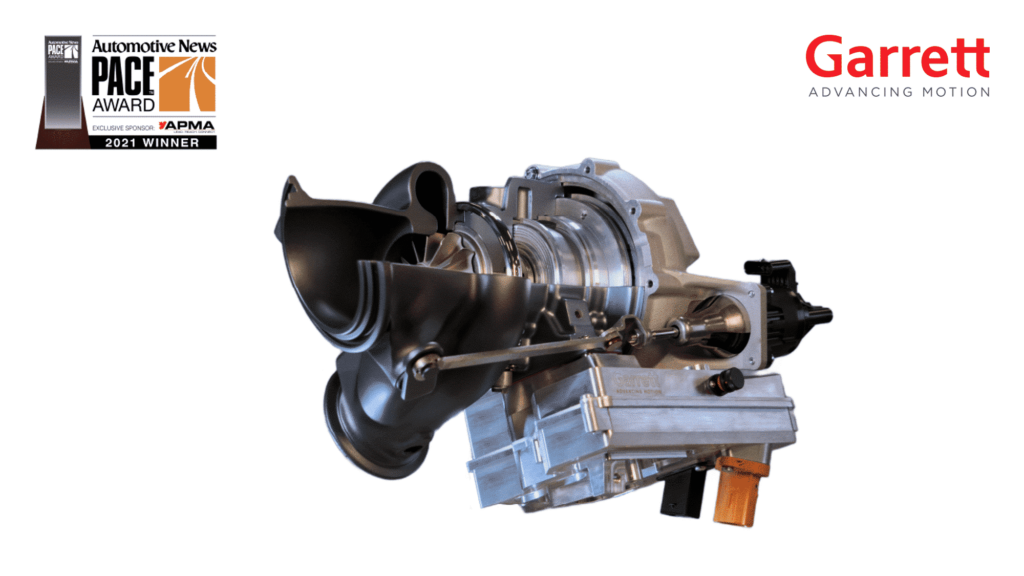 Garrett's E-Turbo was recognized in 2021 with an Automotive News PACE (Premier Automotive Suppliers' Contribution to Excellence) Award. It is a world-first innovation, utilizing a high-speed electric motor positioned on the turbo shaft to spool the compressor more rapidly and eliminate lag. For hybrid powertrains, this dramatically improves transient engine performance and low-end torque, delivers more power and faster response while enabling engine efficiency through energy recuperation.
2. Race Proven, Road Ready
Garrett's rapid advancements in electrification technology are a direct result of work in both Formula 1 TM (F1TM) and Le Mans as an official supplier to world renowned teams. Le Mans race teams hybridized their powertrains first, while F1 took it even further by hybridizing both the car and its boosting system. Look out for a major automaker launching a hybrid passenger car equipped with Garrett's E-Turbo in 2022 – one of 10 global OEM programs underway that will see Garrett E-Turbo architecture penetrate deeper and wider into electrified hybrid powertrains.
3. Waste Not, Want Not
Garrett's E-Turbo can be used as a motor and a generator. The palm-sized motor – situated on the turbo shaft between the compressor and turbine stages – not only supports the boosting system, it can also power the hybrid motor directly or recharge the battery.
As such, it becomes a net contributor to the vehicle energy management system, enabling engineers to choose when and how to use or recuperate energy. This enhances the flexibility of fuel efficiency strategies between hybrid system and engine operating points.
4. E-nabling a High Efficiency Future with Lambda 1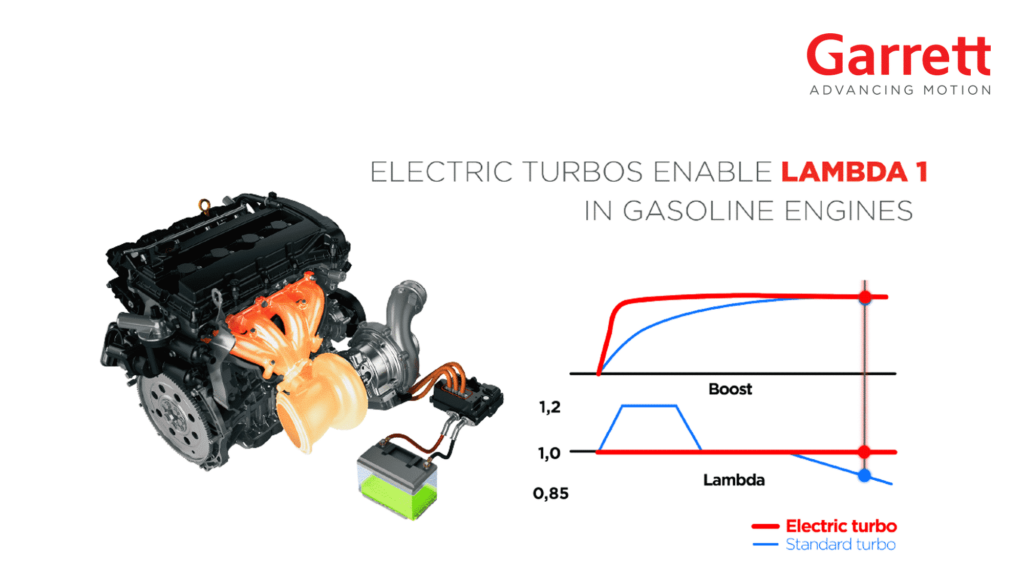 Electrifying a turbocharger removes the need for a small high efficiency turbine to drive the compressor at low flow rates. The E-Turbo's electric motor and wide-range compressor improves low-end response and extends high-end performance, meaning the turbine can be right-sized for Lambda 1 rated power. This, together with recuperated energy, helps the vehicle's electrical system contribute to stoichiometric air/fuel ratios needed to meet future emissions legislation.
5. Electrifying Hybrid Engine Downsizing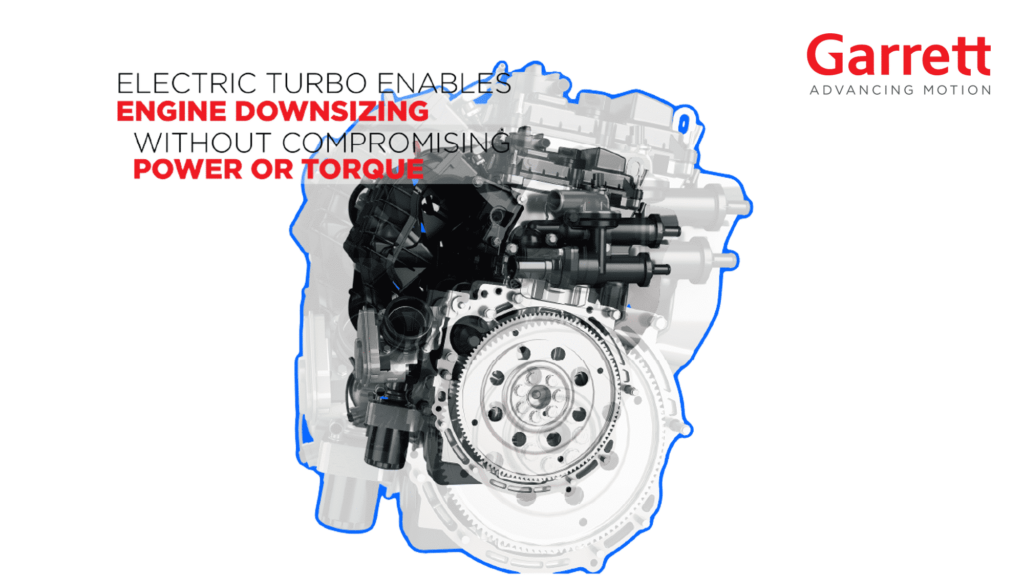 E-Turbo technology helps enable an engine down-sizing hybridization strategy. By eliminating lag, there's no need for a trade-off on size and inertia due to conflicting steady-state and transient targets. Instead, engineers can focus on the optimal aerodynamic solution for fuel economy and power, confident that the E-Motor will compensate for any increased inertia
As a result, when the E-Turbo is paired with hybridization, a 4-cylinder engine can replace a V8 twin turbo and deliver both CO2 and emissions benefits along with a great driving experience.
6. Waving Goodbye to Turbo Lag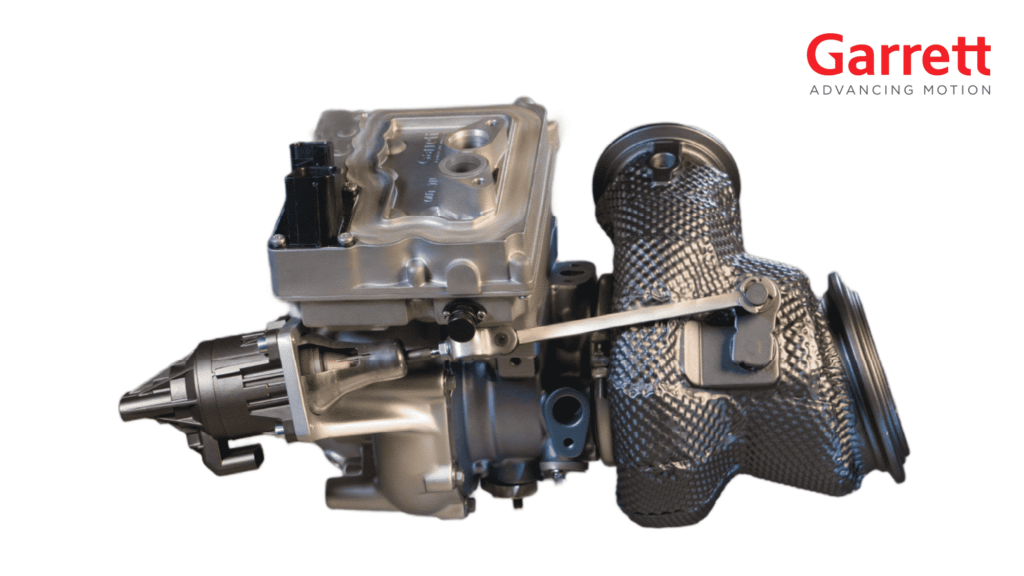 E-Turbo offers the efficiency of a large turbo with zero lag. Any potential inertia lag is overcome by the e-motor spooling the compressor more rapidly, dramatically improving transient engine performance and low-end torque. This is the direct result of Garrett's in-house advances in high-speed motors, high-power density motors, high current and switching frequency inverters and motor control software.
7. Preparing for Heavy Duty Electrification and Beyond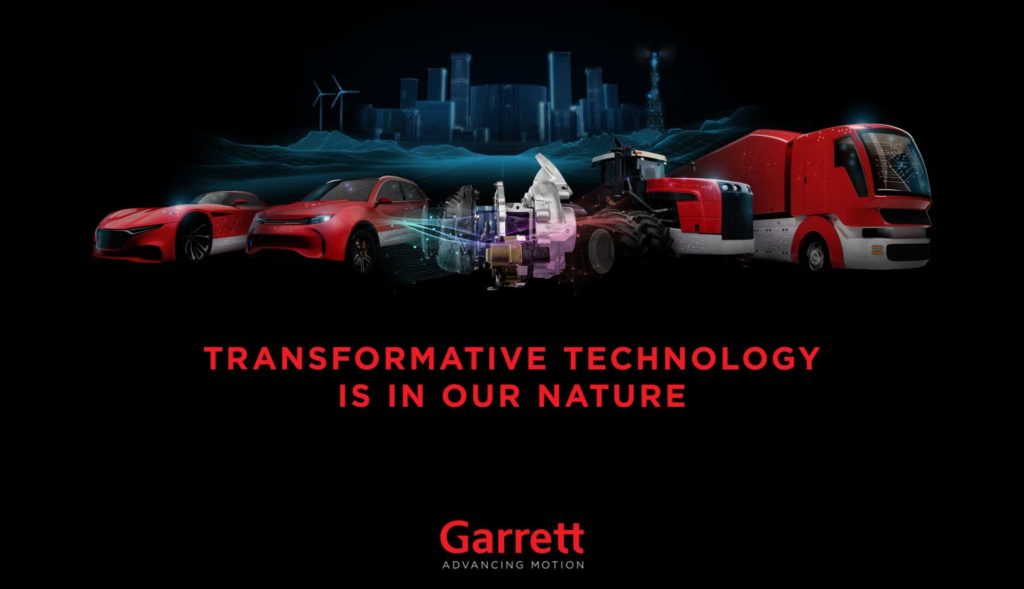 E-Turbo technology extends the benefits of hybrid electrification into the on-highway heavy-duty sector by enabling electric boosting, turbo compounding, and enhanced after-treatment thermal management. This opens the potential for 2-5% fuel economy savings from engine down-speeding or down-sizing, 20% engine-out NOx and soot reductions through transient operations, benchmark brake thermal efficiency and improved overall system cost. In addition, the energy harvested by the E-Turbo is supplied directly to an e-motor, providing additional torque to the driveline, reducing engine load and minimizing fuel burn and emissions.
For off-highway vehicles, such as agricultural tractors, E-Turbo can help increase productivity, thanks to fuel economy savings and improved emissions resulting from more compact downsized engines.
Want to know more about Garrett's world-leading electrification program? Take a look at our electric and hybrid innovations.