October 4, 2022
Garrett Motion's Sustainability Progress Earns Gold Ranking from EcoVadis
Ranks among the top 2% of companies in Industry sector
Improvement from Silver Medal in 2020, 2021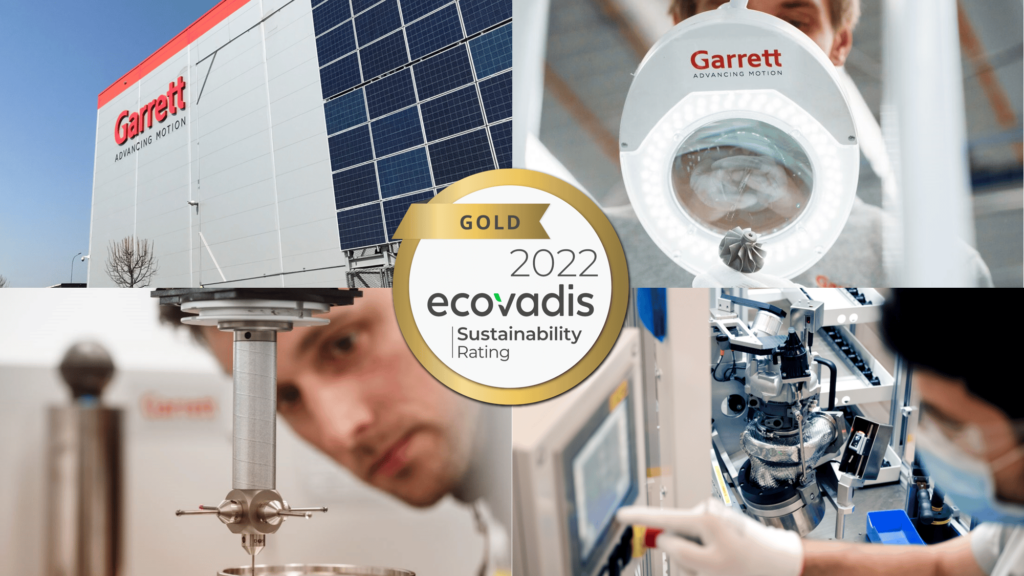 ROLLE, Switzerland, Oct. 4, 2022 – Garrett Motion Inc. (Nasdaq: GTX, GTXAP), a leading differentiated automotive technology provider, has received the Gold level rating from EcoVadis in recognition of its responsible and sustainable business practices. The Gold rating places Garrett among the top 2% of companies in the motor vehicle supply industry and higher than 94% of all evaluated companies according to EcoVadis at the time of the assessment.
"We are delighted to have improved our EcoVadis score and achieved a Gold rating. EcoVadis is an important rating for us and our customers, and the Gold medal is a testament to our responsible and sustainable business practices," said Garrett President and CEO Olivier Rabiller. "I am proud of our team's commitment, and efforts to advance Garrett's environmental, social and governance performance."
Garrett's EcoVadis score has increased for three consecutive years, since first being rated in 2020. In 2020 and 2021, the company earned Silver Medals.
Garrett's mission, to develop cutting-edge solutions that enable cleaner, more efficient and connected vehicles, is at the heart of the company's contribution to society. Using the EcoVadis business sustainability rating provides a valuable independent assessment of Garrett's overall sustainability performance across environment, social and governance topics.
"How we do things is just as important as the results we deliver," Rabiller said. "Our corporate sustainability framework, called WeCare4, starts from our mission, which helps ensure our business performance and sustainability performance go hand-in-hand."
The EcoVadis Gold Medal comes on the heels of Garrett's "A-" Supplier Engagement Rating from the non-profit CDP (Carbon Disclosure Project), which runs a global environmental impact disclosure system for investors, companies, cities, states and regions.
EcoVadis is the world's most trusted provider of independent business sustainability assessment, built on international sustainability standards. It covers more than 90,000 companies across 160+ countries and 200+ industries. The scorecard measures performance across 21 indicators in four themes: Environment, Ethics, Labor & Human Rights, and Sustainable Procurement. The percentile rank shows how the score compares to other companies and is calculated at the time of score publication.
To discover more about Garrett's sustainability framework and initiatives, please click here to view and download the company's 2021 Sustainability Report.
About Garrett Motion Inc.
Garrett Motion is a differentiated technology leader, serving customers worldwide for more than 65 years with gasoline, diesel and hybrid turbo technologies, hydrogen fuel cell applications and software solutions used in passenger vehicles as well as on and off-highway commercial vehicles. Garrett's cutting-edge technology enables vehicles to become cleaner, more efficient and connected. Our offering of turbocharging, electric boosting and automotive software solutions empowers the transportation industry to redefine and further advance motion. For more information, please visit www.garrettmotion.com.
Contacts:
Media
Christophe Mathy
Garrett Motion, Inc.