Optimize engine control, fuel efficiency & performance
Garrett – Advancing Motion wastegate turbos for gas engines use advanced technology and materials to achieve best-in-class efficiency, performance, and engine control.
Engine 
Range
Achieving peak performance is essential for gasoline engines amid tightening fuel efficiency and emissions standards. To enable smaller, lighter and more efficient engines, Garrett's wastegate turbochargers for gasoline engines use advanced aerodynamics, materials and bearing systems that maximize efficiency, power density at optimized cost. Our wastegate turbos for gas engines are available in several mono-scroll and twin-scroll configurations, spanning <1L displacement to more powerful options up to 3L per turbo.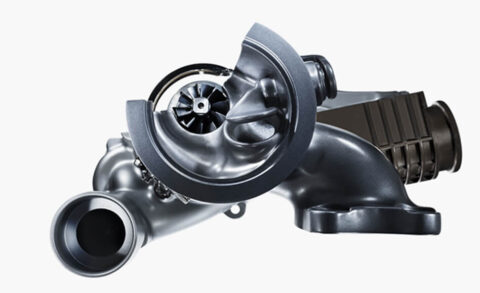 Wastegate Turbo 
Key Features
We have enhanced turbocharger performance through optimized aerodynamics. Our gasoline wastegate turbos feature turbines and compressors feature wheels with radial, mixed, low- and high-flow capabilities. The new generation of wheels, as well as compact volutes, satisfy the distinct requirements of both low- and high-power engines.
Many modern gas engines use wastegate turbochargers, which control boost levels through electric-actuated bypass valves. Operating at higher temperatures than diesel turbos, they are often water-cooled and constructed using high-temperature aerospace-capable alloys.
Other key features include:
Unique semi-floating Bearing that is 30 percent smaller and reduces friction losses by 20 percent.  Also available with ball-bearing option.
Redesigned recirculation valve that minimizes surge
Electric actuator option for accurate control and faster response
Meeting
Requirements
Our wastegate turbos also meet auto manufacturer requirements in terms of:
Power
Torque
Transient Response
System Cost
CO2 and Emissions Compliance
Wastegate Turbo and 
Connected Vehicle Solutions
Our wastegate turbos for gas engines help automakers increase efficiency without sacrificing power, while our connected vehicle solutions offer even further improvements. These include advanced powertrain controls, OEM Diagnostic Prognostic Solutions, and cybersecurity software. In addition, our electric boosting products help deliver superior performance while helping reducing emissions.